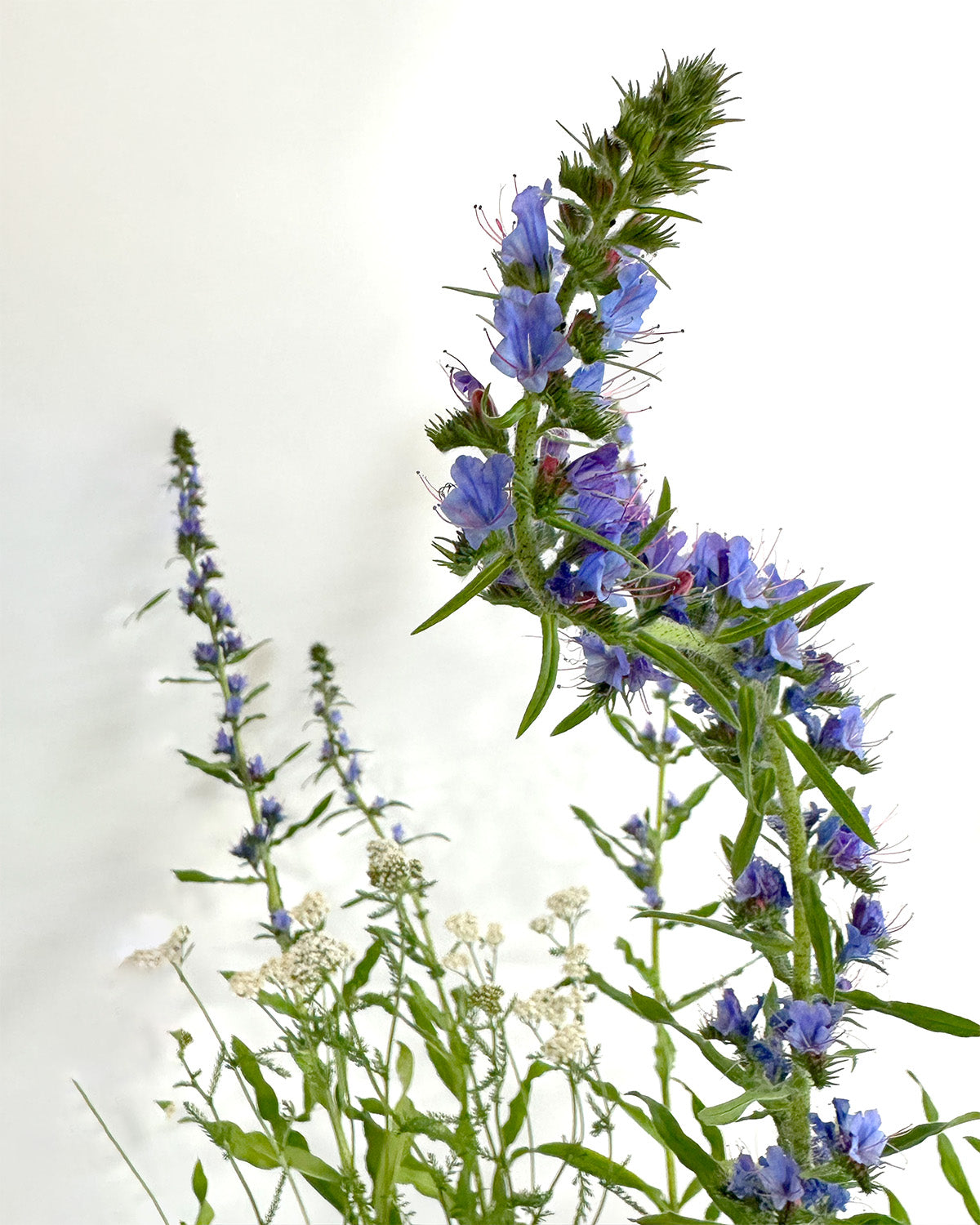 Flowers for wild bees, organic summer bloomers
---
Natural, native plant community from organic production. The plants smell and bloom, serve as a source of food for pollinators and thus ensure a natural experience on the balcony and terrace. Particularly suitable for sunny locations. Can be planted directly in the Boum Planter 15L. Recommended together with the Boum potting soil.
All Sellana plant bricks are cultivated by our partner nursery and conveniently delivered to your home

The perennial plant community is composed of the following species:
Bird/Fence Vetch
yarrow
field scabious
Scabious Knapweed
Meadow Pippau
Common Adderhead
Round-leaved bellflower
Meadow Bellflower
Shaggy Rattlepot
Common trefoil
Die Lieferumg für Vorbestellungen erfolgt am 1. April 2023.
Länge:
Breite: 27 cm
Höhe: 60 cm
Bestellbar ab 1.März 2023

Lieferbar ab 1.April 2023
Lichtverhältnisse
Sonne bis Halbschatten
Der Pflanzziegel, "Blumen für Wildbienen, Sommerblüher Bio" bevorzugt einen sonnigen bis halbschattigen Standort. Am besten platzierst du sie an einem Ort, der für mindestens 4-6 Stunden täglich direktes Sonnenlicht erhält, um optimales Wachstum und Blütenbildung zu gewährleisten.


Mehr Pflanzeninfos findest du in der Boum App.
Zur App
Wasser & Erde
Feucht bis Frisch
Da der Pflanzziegel "Blumen für Wildbienen, Sommerblüher Bio" eine Mischung aus verschiedenen Pflanzen ist, ist es schwierig, eine spezifische Bewässerungsmethode oder Häufigkeit zu empfehlen. Mit der Boum Bewässerung regelt sich der Wasserhaushalt autonom. Wenn du von Hand bewässerst kannst du folgende allgemeine Tipps für die Bewässerung von Blumen beachten: 1. Verwende am besten eine Gießkanne mit einem feinen Brausekopf, um die Pflanzen gleichmäßig zu bewässern. 2. Gieße die Pflanzen am besten morgens oder abends, um die Verdunstung zu minimieren. 3. Die Häufigkeit der Bewässerung hängt von den Wetterbedingungen und der Bodenbeschaffenheit ab. In der Regel reicht es aus, die Blumen ein- bis zweimal pro Woche zu gießen. Achte darauf, dass der Boden immer leicht feucht bleibt, aber nicht nass oder matschig. Da es sich um eine Mischung verschiedener Pflanzen handelt, achte auch auf die spezifischen Bedürfnisse jeder einzelnen Pflanzenart in der Mischung, um die besten Ergebnisse zu erzielen.

Zur Bewässerung
Wir testen unsere Pflanzen.
In Bern 🇨🇭 werden unsere Pflanzen drinnen und draussen getestet.
Gemüse, Kräuter und Wildblumen kommen aus biologischer Produktion 🌿. Die die mit der Boum Erde und Bewässerung am besten wachsen, bieten wir in unserem Shop an.

Wir liefern alle Pflanzen saisonal, sicher und bequem zu Dir nach Hause.📦
zu den Pflanzen
Wird oft zusammen gekauft
Incl. a Boum pot 15 L worth 99 CHF
Pre-order the new system for 2024 now!
Delivery in May 2024
Pre-order now
For up to 3 Boum pots, for a whole season
Order now