Boum Starter Set Medium
Das solarbetriebene, automatische Bewässerungssystem, das deinen Pflanzen immer genau die richtige Menge an Wasser spendet.
Supported payment methods
Satisfied or money back
60 days, completely relaxed
---
Personal support directly in our app chat.
Just add more pots. Up to 12 pots on one tank.
The beautiful, intelligent irrigation system. Order the latest generation now and be the first to receive it in 2024 ✨.

For plant lovers with little time or desire to water. The Boom Starter Set Medium will make your home bloom.

Automatic, self-regulating watering. Two weeks autonomously, even during the holidays. With water tank and solar panel. No connections necessary. Sensors for water consumption and balcony climate, with refill warnings. Optimum soil moisture without tedious adjustment. Discreet, aesthetic design, without hose clutter.

Includes three 15L Boum self-regulating pots valued at CHF 297. Ideal for easily growing herbs and vegetables such as basil and tomatoes, flowers, ornamental plants and saplings. Made from a high-quality recycled mineral/plastic mixture. Decorative, shock and shatterproof, easy to move, UV and frost resistant. Modularly expandable with up to 12 additional pots.

Exclusive access with the Boum app. Irrigation, balcony climate and system health - everything in view from anywhere. Water, fertilizer, storm and freeze alerts. Plant diary with video instructions and tips for >3500 plants. Chat support with video tutorials and personal service. Regular updates with exciting new features.

The latest generation of the Boum system - even nicer and easier. Additional pot shapes, simplified tubing, the latest sensor generation, extended app functions, a large range of suitable Boum plants and Boum soil. Order now at a preferential price in advance ✨.
The Boum systems will be delivered in spring 2024
- Boum irrigation with solar panel, controller (sensors WLAN and pump), USB-C charging adapter, filling flap, suction hose with filter, hose cutting tool (Boum Tool) and 35 L water tank.
- Boum App with pump control, consumption display, temperature history and energy management functions.
- 3x Boum pot 15 L each with 1.5 m connection hose, T-piece for connecting additional pots, float valve and capillary wicks
Boum irrigation (tank and control)
Height: 42cm
Top diameter: 40 cm
Bottom diameter: 29 cm
Volume: 35 liters

Boum pot 15 L
Height: 35cm
Diameter at top: 32 cm
Diameter below: 24 cm
Volume (earth): 15 liters
Material: The tank and pots are made from a high-quality, 80% recycled mineral-plastic mixture with a hand finish. The vessels are shockproof and unbreakable, easy to move, UV and frost resistant.
The new Boum system will be available from spring 2024. Limited quantities.
The Boum Irrigation
For balconies and terraces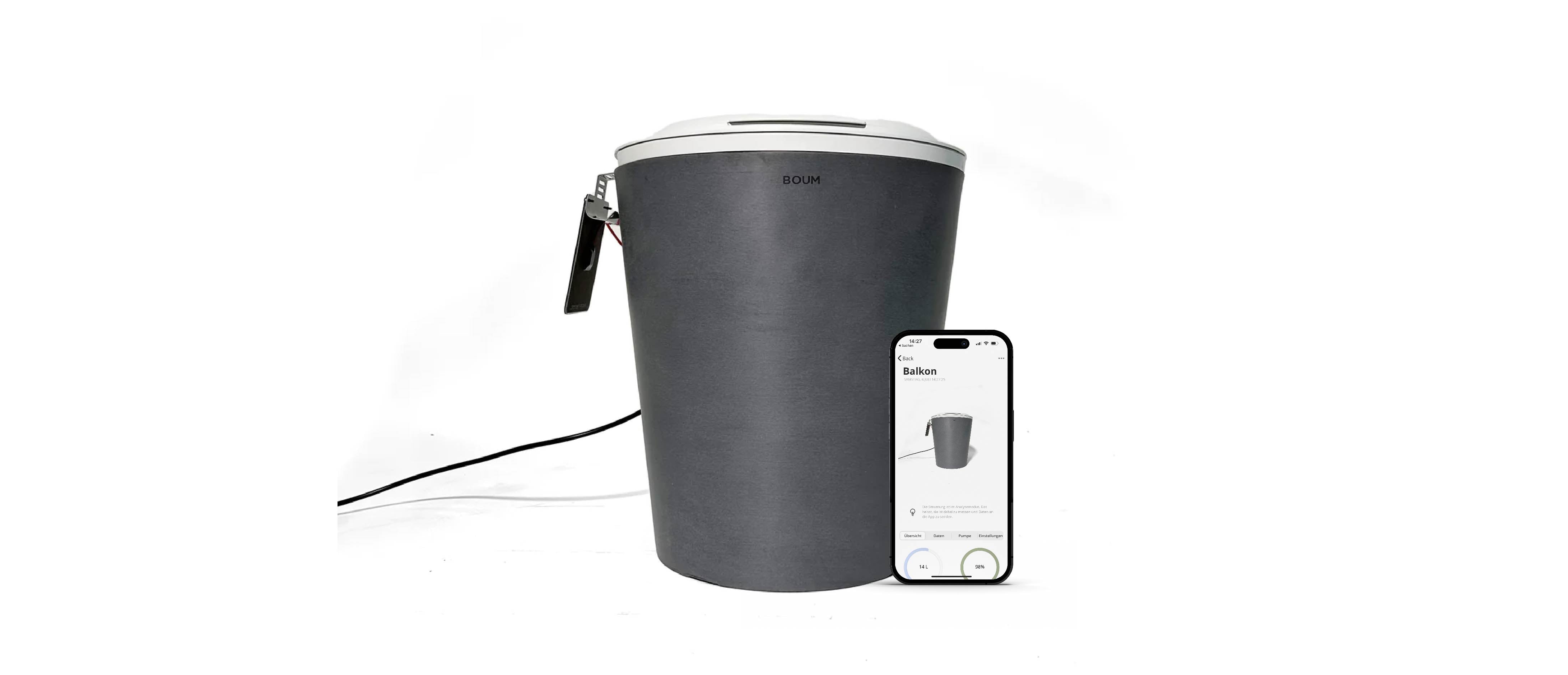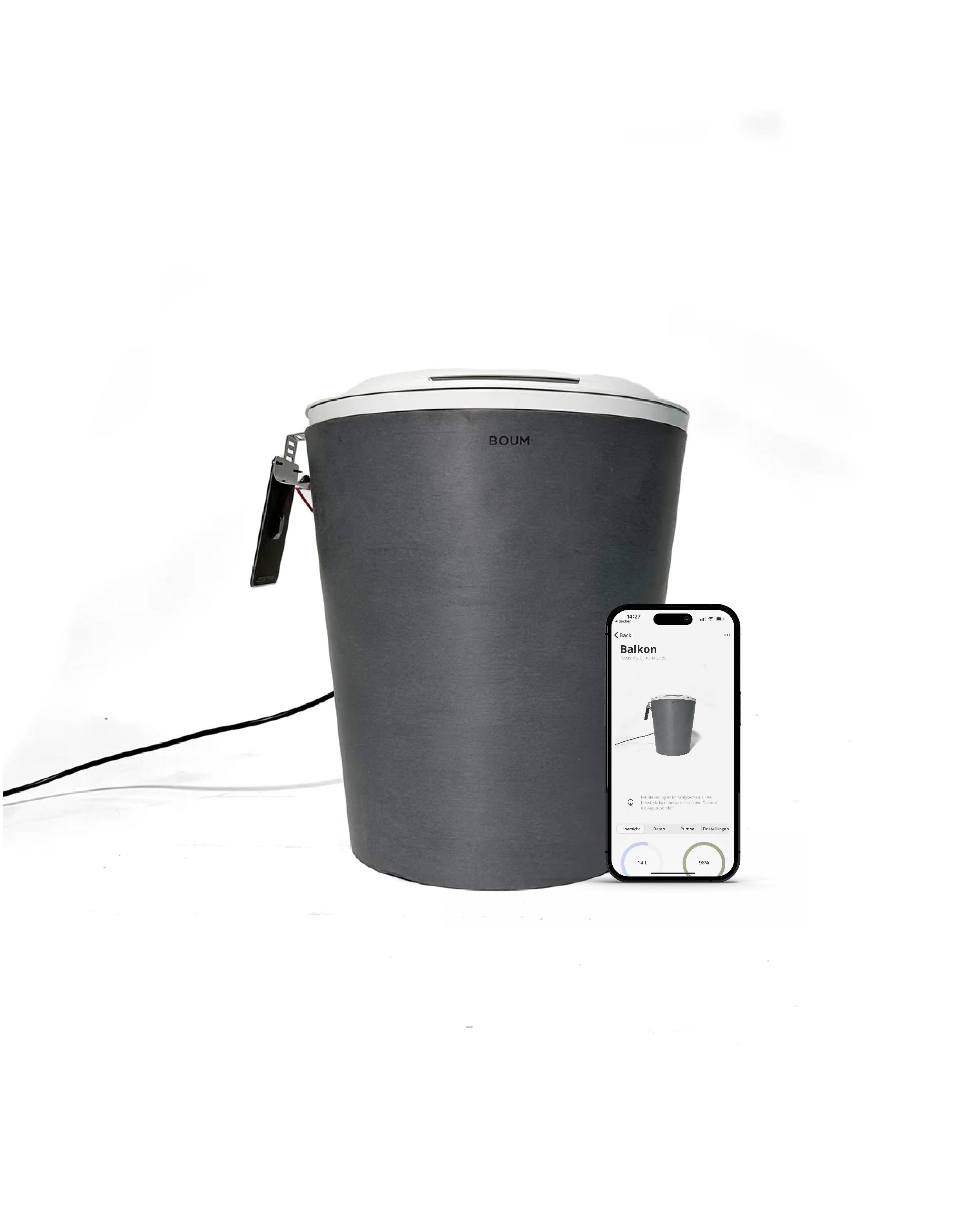 Smart irrigation
With solar panel, WiFi, water level sensors, temperature sensors and pump. Can be controlled from anywhere with the Boum app. With power saving mode. Easy to fill thanks to the hinged lid and generous filling opening. UV and rain protected.
boom app
Measures fill level, water consumption, system status and balcony temperature. Shows how many days the water will last. Watering time can be set.
water tank
35 L tank allows > 2 weeks of autonomous watering. Water stays fresh thanks to the exclusion of light. Intake filter prevents contamination. UV resistant. Made of high-quality, recycled mineral-plastic mixture with hand finish.
Fits
everywhere
Thanks to the solar panel and water tank, the system works without a power connection and without a water connection
Simply
self-regulating
Water level and temperature sensors control irrigation via the Boum app.
14 days
without refilling
The plants are watered even when you are on vacation. The app tells you how long the water will last.
Design
from Switzerland
Locally developed and assembled for the highest quality.
The Boum pot 15 L
with automatic irrigation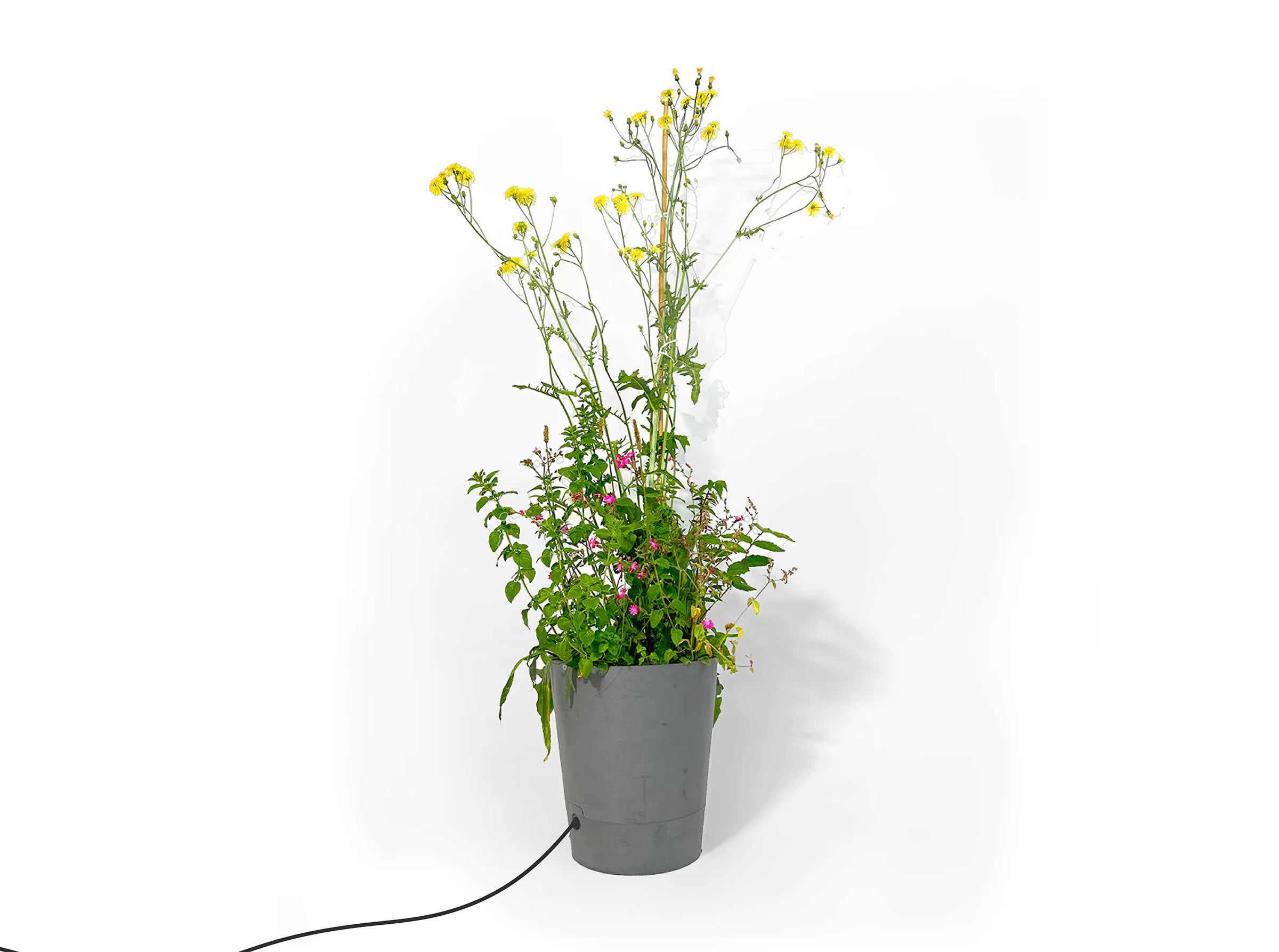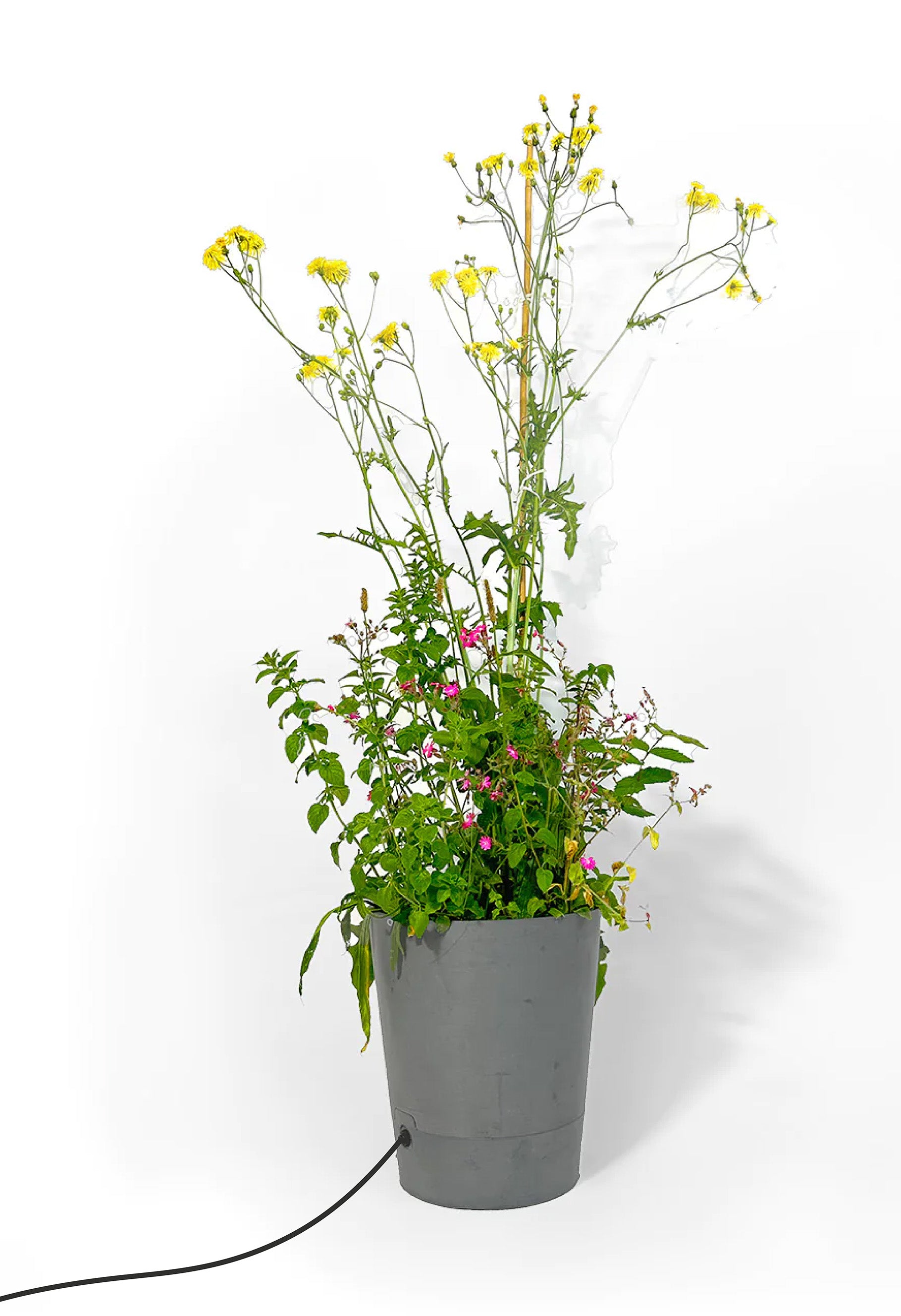 boom pot
15 L pot for vegetables, herbs, flowers, shrubs and trees. UV resistant. Made of high-quality, recycled mineral-plastic mixture with hand finish.
Eco-friendly soil and adapted plants
The peat-free Boum substrate with biochar optimizes water balance and plant growth. Adapted, robust, vegetables, herbs, flowers and trees maximize enjoyment and taste.
Constant soil moisture
The self-regulating, calibrated wick irrigation ensures constant soil moisture. A float valve regulates the water supply. Quick connect connection for easy tubing.
-50%
less water consumption
Thanks to wick irrigation and sustainable two-layer soil*, no water is lost.
Modular
and flexible
Up to 12 pots can be connected to the same irrigation system.
29 cm
root depth
Suitable for growing herbs, vegetables, flowers, shrubs and trees.
80%
made from recycled material
Manufactured from high-quality mineral-plastic mixture with a hand finish. Ideal for balconies and terraces.
Compare sets
Several weeks without watering.
A 15 L Boum pot together with the Boum soil needs a minimum of water. Depending on the number of pots, you only have to fill up the 35 L water tank once every few weeks.
Do you have any questions? Here are the most important answers
How often do I have to refill the water tank?

In midsummer, a pot uses an average of 0.5 liters of water per day. This means that with 3 pots you fill the tank approx. every 3 weeks, with 5 pots approx. every 2 weeks.
How many Boum pots can I connect to an irrigation system?

You can connect up to 12 pots to one water tank. Stew
consumes approx. 0.5 liters of water per day in midsummer.
Does Boum also work without WiFi?

Yes. The irrigation must be connected to the WLAN once for configuration. It then works autonomously, even without WiFi. In this case, no sensor data is displayed in the app.
Can I use my own flower pots?

Boum only works with the Boum planters.
But you can put these in other containers (outside pots) and yours
Use your own colors and shapes.
We recommend Boum potting soil, which is specifically designed for Boum irrigation and Boum plants
was developed. But you can also use your own soil. It is important that it has a good connection to the wicks and that the water flows into them
upper layers.
Which plants can I grow with the irrigation system?

We have successfully tested the Boum system with many different plants. The system is particularly suitable for plants that like to grow in moist soil. Drought-loving plants (e.g. succulents) are somewhat less suitable. If you order plants from us, you are on the safe side - they are definitely suitable for the system.
This product has no reviews yet.
Frequently Bought Together
For up to 3 Boum pots, for a whole season
Order now
Delivery in May 2024
Pre-order now
Delivery in May 2024
Pre-order now
Delivery in May 2024
Pre-order now
Delivery in May 2024
Pre-order now